You can visit over 30 historic sites in the region. Almosts these are the American cemetry at Omaha Beach, the Museaum of Arromanches, Pointe du Hoc, the Pegasus Bridge, St Mere Eglise, the Caen Mémorial, the British cemetry in Bayeux, and the German cemetry at Cambe. At Port en Bessin there is an " Wrecks Museum ". This has resulted from 25 years of underwater exploration in the coastel landing area.

Each year, on June 6th, many villages commorate the landing of the allies on the D-Day. It is an emotional day in Normandy as allied forces remembered for their bravery in helping liberate France and subsequently the rest of occupied Europe.
William The Conqueror
The story of William the Conqueror, as told by the famous Tapestry of Queen athilde, can be seen at Bayeux. The world renowned Tapestry is classified as a work of documentary heritage by UNESCO.
Each year, the first weekend of July, the city of Bayeux invites you to relive as in the time of the Dukes of Normandy thanks to medieval festivals.
Normandy and its Heritage
There is a rich architectural heritage to discover with many Norman castles, manors and farms built in stone from Caen. The Chateau de Creully, de Fontaine-Henry and of Balleroy, the Manoir d'Argouges, the Priory of St Gabriel Brécy and the Abbey de Juaye Mondaye are just a few of these. .
A little further on, discover the cit of Caen. Here you can visit the feudal Chateau of William the Conqueror and the two medieval Abbeys!
To the south of the region lies the famous bay of Mont Saint-Michel with its Abbey perched high on the rocky prominence.
The stunning gardens at Giverny, made famous by the impressionist Claude Monet, are situated within easy reach between Rouen and Paris!
You will be charmed by the beautiful little town of Bayeux with its medieval houses, mansions and the magnificent cathedral.
Calvados, a land to discover…
Visit the cider and calvados producing farms in the region. Speciality caramels "bon bons" made with salted butter are from nearby Isigny-sur-Mer. Try freshly famed oysters at Asnelles or a seafoof platter at one of the many restaurants along the coast.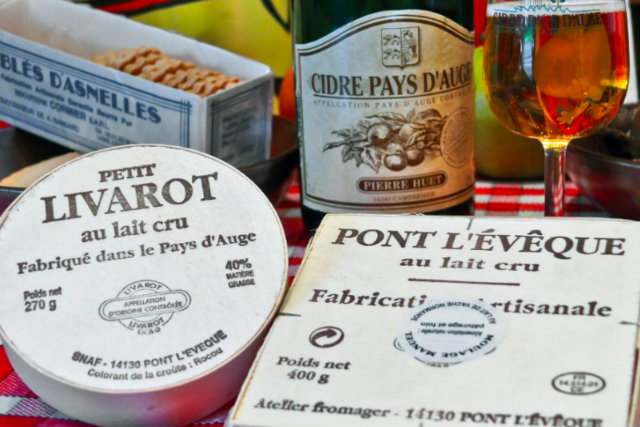 There are numerous trails for exploring the coast or the countryside by foot on bikes or on horseback.
Tours from the campsite, from the village of Martragny to walk, bike, ..
Many sporting activities are available in the area. There is an 18 hole golf course in Port-en-Bessin. The beach at Asnelles has sailing, kayaking and land yachting.
Every summer, next to Bayeux, there is a park with a maze and accrobranch course. Children and all ages are welcome.
Site Bayeux Aventure
The Normandy beaches
Children will love playing on the many sandy beaches of this coastline. Splaching in the sea and building sandcastles, giving hours of fun !
Great sandy beach of Omaha Beach
Parc & Zoo
Festyland, amusement park in Breteville-sur-Odon (Caen)

Indoor Pools with slide in Carpiquet (15km)

Cité de La Mer in Cherbourg